AUSTRALIA:
Australia is a country and continent surrounded by the Indian and Pacific ocean.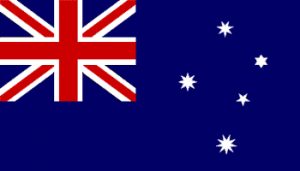 It is world's smallest continent but 6th largest country in the world. It has largest area of ocean and does not share any land boarders. Being the oldest, flattest and driest inhabited continent, with the least fertile soils, Australia has a landmass of 7,617,930 square kilometres (2,941,300 sq mi). A megadiverse country, its size gives it a wide variety of landscapes, with deserts in the centre, tropical rain forests in the north-east and mountain ranges in the south-east. A gold rush began in Australia in the early 1850s, which boosted the population of the country. Nevertheless, its population density, 2.8 inhabitants per square kilometre, remains among the lowest in the world.
Australia is a highly developed country, with the world's 13th-largest economy. It has a high-income economy, with the world's tenth-highest per capita income. It is a regional power, and has the world's 13th-highest military expenditure. Australia has the world's ninth-largest immigrant population, with immigrants accounting for 26% of the population. Having the third-highest human development index and the eighth-highest ranked democracy globally, the country ranks highly in quality of life, health, education, economic freedom, civil liberties and political rights, with all its major cities faring well in global comparative liability surveys. Australia is a member of the United Nations, G20, Commonwealth of Nations, ANZUS, Organisation for Australia's life expectancy is the third highest in the world for males and the seventh highest for females. Total expenditure on health (including private sector spending) is around 9.8% of GDP. Australia introduced universal health care in 1975. Known as Medicare, it is now nominally funded by an income tax surcharge known as the Medicare levy, currently set at 2%. The states manage hospitals and attached outpatient services, while the Commonwealth funds the Pharmaceutical Benefits Scheme (subsidising the costs of medicines) and general practice.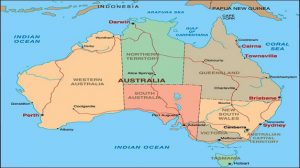 STATES :

• New South Wales
• Victoria
• Queensland
• South Australia
• Western Australia
• Tasmania
CITIES:
largest cities in Australia are Sydney, Melbourne, Brisbane, Perth and Adelaide. A desert area known as the 'outback' covers much of the land.
CANBERRA:
Canberra is the capital city of Australia. It is Australia's largest inland city and the eighth-largest city overall. Canberra is Australia's national capital, affectionately known as "the Bush Capital" So, land was acquired between the two largest cities in Australia (Sydney and Melbourne) for the project.
FAMOUS PLACES:
The country is known for its Sydney Opera House, the Great Barrier Reef, a vast interior desert wilderness called the Outback, and unique animal species like kangaroos and duck-billed platypuses.

Estimated cost of Living:
As a general guide, the average international student in Australia spends about AUD$1,550 per month (approximately AUD$390 per week) on accommodation, food, clothing, entertainment, transport, international and domestic travel, telephone, and incidental costs.
• Accommodation
• Hostels and Guesthouses – $90 to $150 per week
• Shared Rental – $85 to $215 per week
• On campus – $90 to $280 per week
• Homestay – $235 to $325 per week
• Rental – $165 to $440 per week
• Boarding schools – $11,000 to $22,000 a year
Other living expenses
• Groceries and eating out – $80 to $280 per week
• Gas, electricity – $35 to $140 per week
• Phone and Internet – $20 to $55 per week
• Public transport – $15 to $55 per week
• Car (after purchase) – $150 to $260 per week
• Entertainment – $80 to $150 per week
Requirements for Study in Australia:
For Admission in Bachelor
HSSC/A-Level/Intermediate with minimum 50 % marks
For Admission in Master
B.Scs/ BBA/BS Hons or 16 year Qualification
2 years bachelors and 2 years master is also accepted
English language:
IELTS for Bachelors: Overall 5.5 with no module less than 5.0
IELTS for Masters: Overall 6.5 required
Intake: Multiple intakes in a year
Procedure:
Step 01:
For Admission
The following documents are required for admissions
• Up to date Resume
• Academic documents
• Reference letters from two different subject teachers of last institute (If required)
• IELTS Certificate
• Experienced letter (if any)
• Passport 1, 2 & last page
• CNIC Copy
After receiving all these documents, student will get conditional offer letter in 02-03 weeks.
Step 02:
After acceptance letter, student will apply for GTE and after approval of GTE student will deposit fee. In 2-3 days, student will get acceptance letter and will apply visa.
UNIVERSITIES:
Australia is home to plenty of prestigious universities, that are highly ranked and well-known around the world, giving you plenty of options for reaching some of the best professors and teachers. Places like, National University of Australia, La TROBE, MONASH, CHARLES STURT, DEAKIN GRIFFITH, SUNSHIINE COAST, TASMANIA, EDITH COWAN and FADERATION UNIVERSITY all have great shiny spots at the top of the rankings lists. If you're looking for the best law schools, business schools, medical schools, or engineering schools, with the best reputations to enrol in for your Bachelor's, Master's, or Ph.D. definitely consider going to Australia.
LA TROBE UNIVERSITY:
La Trobe has been rated among the top ten universities in Australia, and the top three in Victoria, for the numbers of specific fields of research rated at 'well above world standard' in the 2015 Excellence in Research for Australia (ERA) survey. They achieved top rating in three broad discipline groups: Agricultural, Biological and Physical Sciences. La Trobe was rated the equal best university in Australia for Biological Sciences, best in Australia for Agricultural and Veterinary Studies, and was the only top-rated university in the country for Physiology.
The 2018 QS World University Rankings has La Trobe University ranked 397 in the world, while Times Higher Education World University 2019 rankings placed La Trobe at 341 and ranked 59th globally in their Golden Age Rankings. These rankings placed La Trobe in the top 1.2 per cent of universities globally.
CAMPUSES:
• Melbourne
• Albury-Wodonga
• Bendigo
• City
• Mildura
• Shepperton
• Sydney
COURSES:
You can search your relevant course in the link below:
https://www.latrobe.edu.au/courses
MONASH UNIVERSITY:
Monash university is a public research university based in Melbourne, Australia. Founded in 1958, it is the second oldest university in the State of Victoria. Monash enrolled over 50,000 undergraduate and over 22,000 graduate students. Monash is home to major research facilities, including the Monash Law School, the Australian Synchrotron, the Monash Science Technology Research and Innovation Precinct (STRIP), the Australian Stem Cell Centre, 100 research centres and 17 co-operative research centres. Monash is a member of Australia's Group of Eight, a coalition of Australia's eight leading research Universities, a member of the ASAIHL, and is the only Australian member of the M8 Alliance of Academic Health Centres , Universities and National Academies. Monash is one of two Australian universities to be ranked in the École des Mines de Paris (Mines ParisTech) ranking on the basis of the number of alumni listed among CEOs in the 500 largest worldwide companies. The university was named after the prominent Australian general Sir John Monash. This was the first time in Australia that a university had been named after a person, rather than a city or state.
Monash is ranked in the top one per cent of world universities – 84th in the world – according to the Times Higher Education World University Rankings (2018–2019) in the top 100 world universities, with an estimated rank of 79th according to the Academic Ranking of World Universities 2016.

CAMPUSES:
Clayton campus
Clayton campus has around 26,000 students and is the largest of all eight campuses. It is located 20km south-east of Melbourne.
Caulfield campus
Caulfield campus is Monash University's second largest campus, nine kilometres south-east of Melbourne
Peninsula campus
Peninsula campus is Monash University's third largest campus. It is about 40km south of Melbourne and has around 3500 students
Parkville campus
The Parkville campus has recently undergone a $50 million redevelopment, which includes new world-class research laboratories and teaching space
Law Chambers
Located in the heart of the Melbourne's legal precinct and within walking distance of the Magistrates, County and Supreme Courts
271 Collins Street
Specifically designed for Bachelor of International Business students, this centre is located in Melbourne's central business district.
COURSES:
You can search your relevant course in the link below:
https://www.monash.edu/study/courses?international=true
CHARLES STURT UNIVERSITY:
(CSU) is an Australian multi-campus public university located in New South Wales, Queensland, Victoria, and the Australian Capital Territory. Established on 1st july1989, it was named in honor of Captain Charles Sturt, a British explorer who made expeditions into regional New South Wales and South Australia. Charles Sturt University offers various Distance Education programs at Bachelor and Post-Graduate level as well as the Single Subject Study program. CSU also has various course delivery partnerships with several TAFE institutions across the country.
Country rank 22 World rank 555
CAMPUSES:
• Albury-Wodonga
• Bathurst
• Dubbo
• Orange
• Port Macquarie
• Wagga Wagga
Specialist campuses:
• Canberra
• Goulburn
• Manly
• Parramatta
Study centres:
• Sydney
• Melbourne
• Brisbane
• Griffith
• Parkes
• Wangaratta
COURSES:
You can search your relevant course in the link below:
https://futurestudents.csu.edu.au/courses
GRIFFITH UNIVERSITY:
Griffith University is a public research university in South East Queensland on the east coast of Australia. Formally founded in 1971, Griffith opened its doors in 1975, introducing Australia's first degrees in environmental science and Asian studies. It is a verdant university and a member of the IRU.
The university is named after Sir Samuel Walker Griffith, who was twice Premier of Queensland and the first Chief Justice of the High Court of Australia. Sir Samuel Griffith played a major role in the Federation of Australia and was the principal author of the Australian constitution.
Opening initially with the one campus at Nathan and 451 students, the University now has five physical campuses spanning three cities, the largest of which are the Gold Coast campus at Southport and the Nathan campus in Brisbane. The Mount Gravatt and South Bank campuses are also located in Brisbane, while the Logan campus is at Meadowbrook. In 2018, the University launched its Digital campus, now its sixth campus, which offers a range of online degrees.
Griffith has over 44,000 students and offers a full suite of undergraduate, postgraduate and research degrees in the areas of business and government, criminology and law, education, engineering and information technology, environment, planning and architecture, health, humanities and languages, music, science and aviation, and visual and creative arts.
Country rank 16
World rank 359
CAMPUSES
• DIGITAL
• GOLD CAST
• LOGAN
• MT GRAVATT
• NATHAN
• SOUTH BANK
COURSES:
You can search your relevant course in the link below:
https://www.griffith.edu.au/college/admissions/how-to-apply/international-students
UNIVERSITY OF THE SUNSHINE COAST:
The University of the Sunshine Coast is a public university based on the Sunshine Coast, Queensland, Australia. After opening with 524 students in 1996 as the Sunshine Coast University College, it was later renamed the University of the Sunshine Coast in 1999
• Total enrollment: 11,602 (2016)
• Founded: 1994
• Country rank 38 World rank 1678
CAMPUSES:
• USC Sunshine Coast
• USC Fraser Coast
• USC Caboolture
• USC Gympie
• USC South Bank
• USC Moreton Bay
• USC Noosa Hub
• International study hubs
• Research and teaching centres
COURSES:
You can search your relevant course in the link below:
https://www.usc.edu.au/learn/international-students/programs-and-fees
UNIVERSITY OF TASMANIA:
The University of Tasmania is a public research university primarily located in Tasmania, Australia. Officially founded in 1890, it was the fourth university to be established in Australia. Christ College, one of the university's residential colleges, was founded in 1846 and is the oldest tertiary institution in the country. The University of Tasmania is a sandstone university and is a member of the international Association of Commonwealth Universities and the Association of Southeast Asian Institutions of Higher Learning. The university is regarded for its commitment to excellence in learning and teaching. It was ranked in the top 10 research universities in Australia and in the top two per cent of universities worldwide in the Academic Ranking of World Universities.
• Country rank 21 World rank 541
CAMPUSES
• The University of Tasmania has three main generalist campuses:
• Sandy Bay
• Newnham
• Cradle Coast campus.
COURSES:
You can search your relevant course in the link below:
https://www.utas.edu.au/international/studying/course-search-tools/list-all-courses
EDITH COWAN:
Edith Cowan University is an Australian public university located in Perth, Western Australia. It was named after the first woman to be elected to an Australian Parliament, Edith Cowan, and is the only Australian university named after a woman.
Edith Cowan University (ECU) world rankings 2018-2019 includes it being number 751+ on the QS rankings number 501+ on Times (THE) number 689= with US News number 101-150 with the Times under 50 years old. This contributes to ECU being the number 30 ranked Australian university overall in the world ranking systems.
CAMPUSES:
ECU has three campuses
• Joondalup
The Joondalup Campus is the University's headquarter
• Mount Lawley
The Mount Lawley Campus is close to Perth's central business district.
• Bunbury
The South West Campus is located in Bunbury, two hours drive south of Perth. The South West Campus (Bunbury) is the largest university campus outside the metropolitan area.
COURSES:
You can search your relevant course in the link below:
https://www.ecu.edu.au/degrees/international
FEDERATION UNIVERSITY
Federation University Australia is a public, dual-sector university based in Ballarat in Victoria, Australia. It is the fourth oldest tertiary education institution in Australia, having begun under predecessor institutions in 1870, during the Victorian gold rush. With the merger between the University of Ballarat and Monash University's Gippsland campus in 2013, the university changed its name to Federation University from 2014.
Address: University Dr, Mount Helen VIC 3350, Australia
Affiliation: Regional Universities Network
Motto: Learn to Succeed
Founded: 1994
CAMPUSES:
• Camp Street Campus (Ballarat)
• Gippsland Campus (Churchill)
• Wimmera Campus
• Berwick Campus
• Brisbane, Queensland
COURSES:
You can search your relevant course in the link below:
https://federation.edu.au/international/study-at-feduni/programs-and-courses
• School of Arts
• School of Education
• School of Health and Life Sciences
• School of Nursing and Healthcare Professions
• School of Science, Engineering and Information Technology
• Federation Business School
Deakin university:
Deakin University is a public university in Victoria, Australia. Established in 1974 with the passage of the Deakin University Act 1974, the university was named after the second Prime Minister of Australia, Alfred Deakin. Deakin is one of Australia's fastest growing research universities. 89% of Deakin's research is rated at or above world class.
In 2018, the Australian Research Council awarded Deakin University $8.42 million in funding for 23 new research projects in its 2019 funding announcement. This included 15 Discovery Projects and 8 Discovery Early Career Researcher Award (DECRA) projects, six of which were from the University's Faculty of Arts and Education.
CAMPUSES
• Melbourne Burwood Campus
• Geelong Waurn Ponds Campus
• Geelong Waterfront Campus
• Warrnambool Campus
• Cloud Campus
COURSES:
You can search your relevant course in the link below:
https://www.deakin.edu.au/courses/find-a-course?international=1