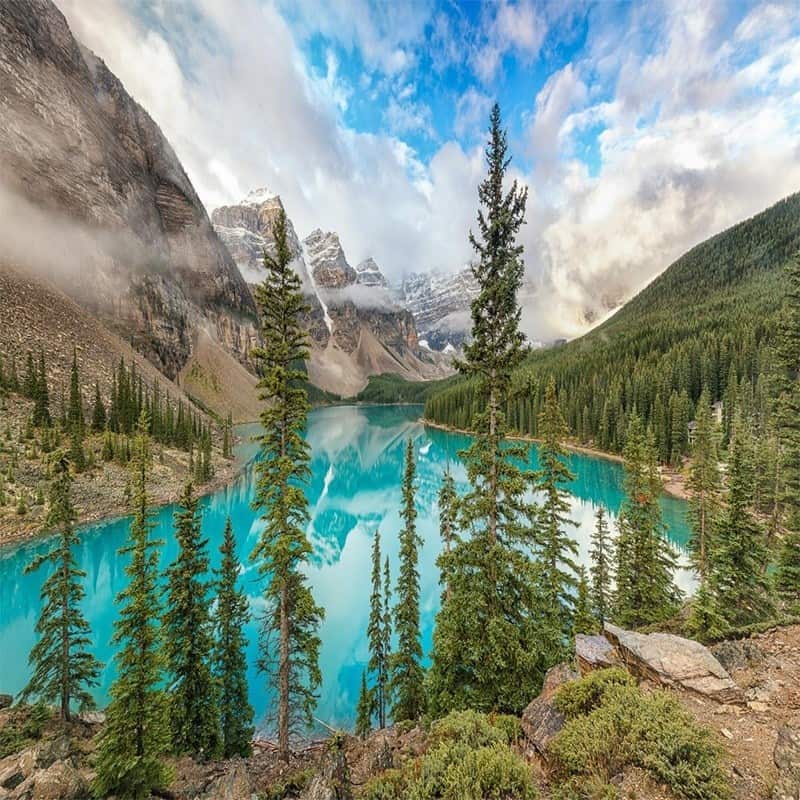 Alberta( PNP)
Canada, being one of the most developed countries in the world, attracts many immigrants from all over the world. Being the second-largest country of the world, its amazing geographical features attract millions of tourists from all over the world. Provincial Nomination Program is one of the popular immigration streams under Express entry.
Whenever we think of traveling to any other country, the first concern that pops up in our mind is the visa requirement for that particular country and its eligibility criteria. Just like any other developed country, to visit Canada, you'll be requiring a valid visa. In this article, we will be discussing in detail about the options any foreign national has if he/she plans to settle in Alberta, which is Canada's fourth-largest province.
The province of Alberta is located in the west of Canada. Alberta is spread over an area of 661,848 km2, which makes it the fourth-largest province of Canada. This province includes 19 cities, which are home to 4.371 million people. In this article, we will be discussing the pathways that you must know if you are aspiring to move to Alberta.
Immigrating to Canada is considered a great opportunity all over the world, particularly because of the experiences and opportunities Canada has to offer. Canada welcomes millions of immigrants every year from all over the world.
The immigration pathways offered by the province of Alberta to foreigners who want to move to Alberta are divided into three main categories:
Alberta Opportunity Stream
Alberta Express Entry Stream
Alberta Self-Employed Farmer Stream
These three immigration streams are explained below in detail:
Alberta Opportunity Stream:
The Alberta Immigrant Nominee Program is an economic immigration program that nominates foreigners and allows them to reside permanently in Canada. This program is offered by the government of Alberta. The Alberta Opportunity Stream is a part of the Alberta Immigrant Nominee Program. Alberta Opportunity Stream primarily focuses on foreigners who are already working in Alberta and have a full-time employment offer from their employer (A Canadian National). To benefit from this program, the candidate must have the required skills and education to fill the job shortage in the province. The candidate must also be financially able to support his/her family.
Alberta Express Entry Stream:
The Alberta Express Entry Stream is also a part of the Alberta Immigrant Nominee Program. This program basically gives the province the authority of nominating foreigners from the Federal Government's Express Entry System and then inviting them to apply for Canadian permanent residence. The exact criteria for nominating the foreign nationals have not been disclosed by the government, although the province as assured that every express entry candidate will be considered. The foreign nationals cannot apply in this program directly; they'll be invited by the province of Alberta.
Alberta Self-Employed Farmer Stream:
The Alberta Self-Employed Farmer Stream is also a part of the Alberta Immigrant Nominee Program. The Alberta Self-Employed Farmer Stream is jointly operated by Alberta Immigrant Nominee Program and Alberta Agriculture and Forestry. This program focuses on well-trained and experienced farmers who want to settle in Alberta and operate their farms there. The candidates who are selected for this program will be required to submit a comprehensive application containing every detail of their experience in this particular field, and accurate details of what type of farm they plan to own and launch in Alberta.
These are the main pathways offered to foreigners who aspire to settle in Alberta.
We are offering a step to step guide in business immigration. We have expert and experienced consultants working in Canada.
So if you want to know more about Canadian immigration, we're here to assist you with a comprehensive guide for the whole Immigration process.
Canadian immigration is considered a perfect opportunity for anyone. After having a look at these facts, you'll surely be interested to apply for Canadian Immigration. If you want a secure future for you and your family, then applying to Canada might be the right choice for you. Along with proper guidance and support, our consultancy services also include free assessment for immigration. Grab the opportunity and get your evaluation done for free!
The entire process will be under our expert supervision. From the initial step of filling out your forms until boarding the plane, we'll be there for you! We are one of the best immigration consultants across Pakistan.
Our firm is a professional and paramount consultancy provider, delivering the conveniences of Study-Visa and immigration. With the motive of helping the clients, by providing top-notch consultancy support, we enable our clients to pursue their career and their goal of living in their dream country. We also help them to complete their process of immigration. Numerous visa consultants are providing their services in Pakistan. We claim that we are one of the best Canadian immigration consultants in Pakistan. With our trained and experienced agents, we provide our expertise to the clients by guiding them through the whole journey. It is our top-most priority to satisfy our clients through our services. The skill is to get the best one and support the process accurately to get what you desire. It distinguishes us from others. Top Consultants for Canadian immigration. Free assessment. Professional consultancy services in Lahore. Canadian Immigration for Pakistanis made easy.
Give us a call and book a free appointment! Don't miss the opportunity.